Real Estate
SALE

HOMES

Bucuresti

Costa Brava S'Agaro

Hunedoara

Timisoara

OFFICES

RENT
The Residential District "New Timisoara"
Established in 2003, TRUSTEE REAL ESTATE GROUP is one of the best known real estate promoters in the country which started its activity after training and an experimental period in different countries around Europe.
Its main objective is realty development, real estate promoter of residential districts. Activities are running in Timisoara, Bucharest, Hunedoara and are continuously extending.
For the implementation of the tasks assigned, GIT (RETG) is centering round knowing what a real estate product is really about and its main goal is the quality of the buildings (according to the standards of the new millennium). The company relies on the architectural quality, on the quality of urban development, on the quality of the materials used in the construction process and on the quality of the post venta services.
Its dynamic, innovating, promoter and developing character makes TRUSTEE REAL ESTATE GROUP one of the most important actors on the real estate market.
Accordingly, we concentrate on building residential districts for one family only or for more families, offices, public parking lots, shopping centers, industrial polygons, hotels. The centre of our interest has always been the person, who, at the beginning of the new millennium, has a clear vision about the global ambient and town-planning quality.
We would like to thank you in advance for choosing the real estate products provided by TRUSTEE REAL ESTATE GROUP.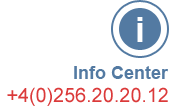 INFO CENTER
HOURS OF OPERATION
monday - friday