Real Estate
SALE

HOMES

Bucuresti

Costa Brava S'Agaro

Hunedoara

Timisoara

OFFICES

RENT
Presentation
TRUSTEE REAL ESTATE GROUP was founded in 2003 and it quickly grew to be one of the largest, nationally renowned realty promoters. It began its activity after an extensive period of preparation and experimentation throughout various countries within Europe.
TRUSTEES' main objective is that of "realty development", real estate promoter of residential neighborhoods and tenements. The first activities began in Timisoara, Bucharest, Hunedoara and are continuously expanding.
TRUSTEE REAL ESTATE GROUPS' methodology revolves around its in depth knowledge of the realty product and its primary focus on the quality of the realty product, at the highest modern standards. Our foundations are: architectural quality, neighborhood development quality, quality of materials and the quality of post sale services.
What makes TRUSTEE REAL ESTATE GROUP (G.I.T.) one of the main players on the real estate market is its dynamic and innovative character, as well as its fame for being a developer and promoter of an integrated product.
With that in mind, we focus on residential neighborhoods with single-family or multi-family buildings, office buildings, public parking, commercial buildings, industrial buildings and hotels. All the developments which TRUSTEE promotes focus around the person, which in today's day and age has a clear view of the global environment as well as urban quality and flow.
We would like to thank you in advance for choosing the real estate products provided by TRUSTEE REAL ESTATE GROUP!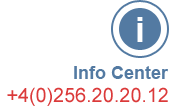 INFO CENTER
HOURS OF OPERATION
monday - friday