Real Estate
SALE

HOMES

Bucuresti

Costa Brava S'Agaro

Hunedoara

Timisoara

OFFICES

RENT
The Block Of Flats
The residential district "New Timisoara" will become a very important part of the city, due to the new functions it brings forth as well as the interior organization system and the offers of new flats. The apartments along with the "loisir" places are located close to the Bega River, in order to enjoy the advantages of running water nearby. In the central area, we will have flats and shopping centers, while on Take Ionescu, we will build offices and market places.

Near Bega, a new and expressive housing system will be created, in which the flat is built close to nature and the water. This area will have many playgrounds and gardens. All the buildings will have a ground floor plus 4 floors and penthouses as well as underground parking lots.

In the central part of the district, the buildings will be made up of a ground floor and 7 floors; green areas will be arranged and trees will be planted. At the ground floor level, facing Bega, several gardens and parks will be established. Towards Take Ionescu Avenue, we will provide facilities, such as markets and other services.

In the near future, this avenue will be known as the most important business area in the city, made up of a 50.000 mp tower of offices, a 5 star hotel and several shopping and business centers. The major element of the towns' new façade is represented by the 45 floor office tower, reaching 200m, which will be built in the N-W part of the district along with the 5 star hotel, parks and shopping centers.

"The flats area", towards Bega, and the "office area", towards Take Ionescu, will be separated from the central area by streets which will be lined with trees, open spaces, artesian fountains as well as benches where people can sit and enjoy the view. Several playgrounds for children will also be created.

The parking area will be entirely underground so that grass plots on the surface can be abundant. There will be enough parking for both: inhabitants and guests.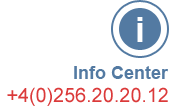 INFO CENTER
HOURS OF OPERATION
monday - friday
Project info

Photo Gallery

Apartments