Real Estate
SALE

HOMES

Bucuresti

Costa Brava S'Agaro

Hunedoara

Timisoara

OFFICES

RENT
The Block Of Flats
THE STRUCTURE:
Dalle-type platform made of reinforced concrete to make it easier for the customer to divide the rooms
CLOSING AND SUBDIVISIONS:
These are made of concrete structural membrane, the walls are entirely molten and different type of bricks have been used, according to the position and dimensions of each wall

BALCONIES:
The platform is provided for waterproofing and thermal insulation systems and with a high resistance at inclemency of weather. The balconies will be finished with ceramics or nonskid granite. These parts of the flats will be used by the clients according to the horizontal division and delimitation of joint areas.

ELECTRICAL INSTALLATIONS:
The project establishes that all electrical circuits be of under running voltage, but enough to cover the needs of the flat, according to the EU standards.
Data, voice and video signals are transmitted through low electric power circuits.
Electrical interlocks are provided for in the project, as well as for a new, European 'electrical and thermal consume- control system' called DOMOTICA, available for all inhabitants.
THERMAL INSTALLATIONS:
The heating of the apartment is made by an individual central heating system, with metal radiators and in the bathrooms are installed towel- support radiators.
The air conditioning is placed in the living rooms.
Kitchen and bathroom ventilation is made by individual pipelines to prevent the transmission of polluted air from one flat to another.

INTERIOR FINISHES:
Sandstone is used in the dank areas and for the walls, porcelain- faience.
Triple laminated parquet is used in the living rooms, bedrooms and halls.
0x 90 cm shower cabin, the 180 cm tank, the toilet and the sink follow the same modern design line.

THE KITCHEN:
Fully equipped, following the same modern design line, the kitchen has a bar area and a place for serving food.
Endowments: ceramic kitchen range, electrical oven, hood, dish-washing machine, a place for a heavy refrigerator.
We have adapted a system of placing the faience between the kitchen pieces of furniture, in accordance with the space remaining.

ENDOWMENTS FOR THE COMMON AREAS:
Two hydraulic elevators, with alarm systems and telephone facility, are installed at each floor.

EXTERIOR FINISHES:
The staircase: floors, steps and counter-steps veneered with porcelain.
Exterior coatings: thermal transfer is realized with polystyrene and thermal insulation systems.
Modern banisters with sliding lens shades and fixed thin strips.
At the inferior part of the balconies, these remain of exposed concrete, which is being finished.

EXTERNAL DEVELOPMENT:
The exterior gardens are completed systematized.
The whole area is provided for with surveillance and the underground parking lot is watched by the administrator of the building.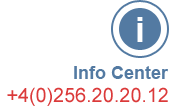 INFO CENTER
HOURS OF OPERATION
monday - friday
Project info

Photo Gallery

Apartments